Kay Jewelers is the biggest brand that sells jewellery it the US. According to their official website, Kay Jewelers opened the first shop in Reading, Pa. in 1916. Back then, Kay Jewelers used to sell more than just necklaces, rings and bracelets. Kay Jewelers originally sold eyeglasses, music boxes, silverware, appliances and even razors. However, after some time, Kay Jewelers started to sell only jewellery, which is now the reason why is this brand popular and very well known. 
Kay Jewelers is now part of Signet Jewelers in Akron, Ohio. Signet Jewelers bought Kay Jewelers in 1987. Signet Jewelers also owns other companies, such as Zales, Jared the Galleria of Jewellery, Ernest Jones, etc. This brand has grown extremely since its founding. According to Signet Jewels, there are more than 1000 stores in 50 US states.
Where are Kay Jewelers stores located?
Kay Jewelers is usually located only in malls and big shopping areas where a lot of "casual" people shop and is focused mainly on alluring middle-class shoppers. A significant amount of items sold in Signet Jewelers and Kay Jewelers is priced between $100 and $1000. This price range is considered to be the "midmarket jewellery".
What is Kay Jewelers offering to their customers?
Kay Jewelers sells a huge amount of jewellery ranging from Kay Jewelers gold necklaces to Kay Jewelers rose gold promise rings and diamond engagement rings. Kay Jewelers also specialise on different types of jewellery. For example, selling popular styles of bracelets such as anklets, tennis bracelets, chain bracelets and bolo bracelets. 
Kay Jewelers offers "Jewellery Education Hub", where you can learn everything you need to know before buying any type of jewellery. This page offers a massive amount of articles, for example about diamonds, wedding rings, styling ideas and advice about taking care of your jewellery.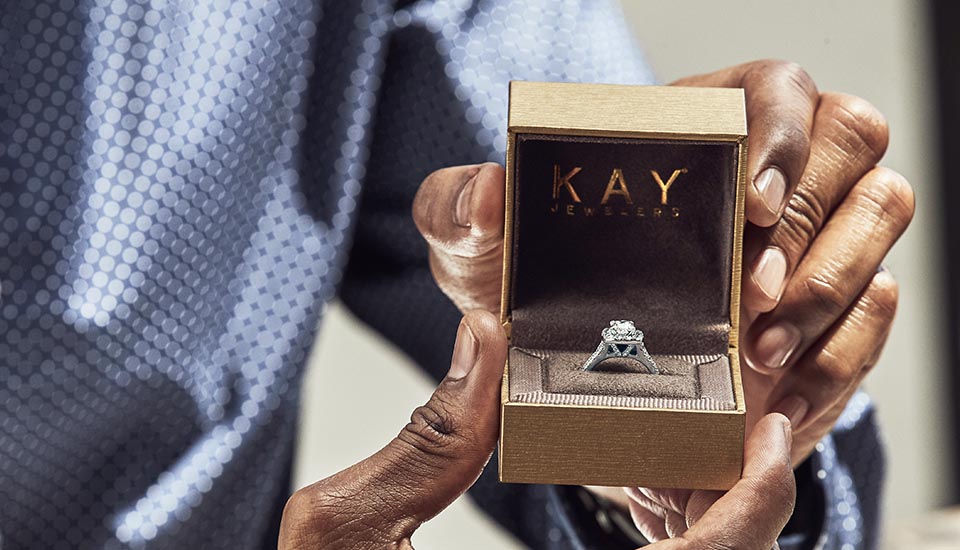 Another big deal about Kay Jewelers is the fact, that they also make custom jewellery. You can simply bring or send them your idea of the perfect jewellery that you created yourself or saw on Pinterest or Instagram. Kay Jewelers will take your idea and work on it to make you satisfied. You can also choose metals or gemstones all by yourself. Kay Jewelers also offers repair services, so if anything bad happens to you jewellery, don't worry about it and take it to Kay Jewelers store. 
The great thing about Kay Jewelers is the fact that, according to their official website, Kay Jewelers never purchases Blood diamonds (also known as Conflict diamonds), which are diamonds mined in war zones in Africa and when bought, help fund military actions against governments.
Kay Jewelers Outlet store
In Kay Jewelers outlet, customers can save a lot of money by buying discounted items and previously owned items, which Kay Jewelers offer. In addition to this option to save money, Kay Jewelers has the option to shop online, which will save you even more money if you don't have Kay Jewelers shop in your town or state.