Thinking about the tiniest details is crucial while planning your wedding. It will belong to the best days of your life, and every bride wants to feel and look like a princess. Your dress and shoes require tons of attention, but wedding jewellery is just as important. These will brighten up your whole wedding look. The selection of wedding jewellery is large, so you'll find what you desire. So, what should you consider while choosing your wedding jewellery to match everything perfectly?
What style of jewellery should you choose?
Your wedding day is a significant moment of your life. However, that doesn't necessarily mean that you have to wear massive and expensive jewellery. Especially if you don't wear much jewellery daily, there is no need to wear it suddenly. In this case, it is best to choose delicate and minimalistic pieces of jewellery. It is crucial for you to feel yourself at your wedding, so instead, stick to your style.
That does not apply only to jewellery, but to everything else that is involved in your wedding. No rule says that wearing diamonds and expensive jewellery is necessary. Select whatever looks good and feels even better. On the other hand, if you love jewellery and everything that sparks, be you and choose something extra.
Choosing the right jewellery for your dress
Your jewellery has to match your wedding dress. This way, you'll achieve a harmonised and elegant look. Thinking about the cut of your dress is especially crucial while choosing your wedding necklace. 
If you've chosen a v-neck wedding dress, select a necklace with a long chain and medium or big pendant. That will make your necklace stand out.

On the other hand, if you'll be wearing a dress with a high neckline, stay away from massive pendants. Choose a rather minimalistic necklace, which makes your dress stand out. 

Strapless wedding gowns look best with necklaces that do not reach under your collarbone. That takes the attention of the eye to your neck and dress. Also, you don't have to avoid rich-looking jewellery.
What material is the best for your jewellery?
Deciding what material to choose for your jewellery can be overwhelming. But what can help you is the colour of your dress. 
The traditional pearl white dress looks astonishing with cool tones. So ideally, choose jewellery from platinum or white gold. These materials also go with pastel colours.

If you'll be wearing a nude dress, white gold is what you should wear. But, this material does not look pretty with the creme-coloured dress. This colour is more on the warm spectre, so you'll need a different material. 
If you want to be safe, choose yellow or rose gold. Keep in mind that if you prefer, for example, platinum, all your jewellery has to be from the same metal. Wearing a warm-toned piece of jewellery together with a silvery necklace doesn't look great. 
Pearls belong to the most popular wedding jewellery these days. Brides usually wear white pearls, but other natural shades are an option. All of the shades of peals look stunning and elegant. The most popular are, for example:
Pink, grey or blue pearls 
As always, pay attention to your dress, which has to match your pearls. Jewellery made out of pearls is modern, elegant and feminine, which makes them ideal for brides. They naturally catch your eye, so it's best to combine them with a minimalistic dress, which is not that decorated. So be careful if you desire to wear pearls on your wedding day.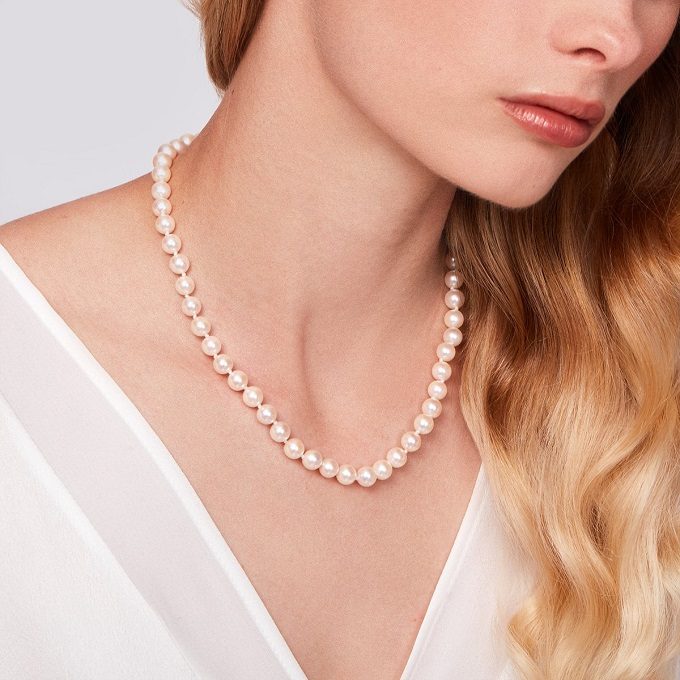 Minimalism or extravagance?
Always decide based on how you feel and what you like the most. There is an enormous selection of wedding jewellery, ranging from minimalist to extravagant pieces. As said before, match everything to your dress.
If you bought a heavily decorated dress, it is safer to get simple and minimalistic jewellery. 

On the other hand, if you're wearing a minimalistic dress, go all out with your jewellery. 
The most important task is to find balance and harmony. Don't be afraid to get advice from your close friends and family. They can tell you their opinion and help you decide what is best for you. 
Most brides usually wear jewellery diamonds or zircons, which have one great advantage – they look stunning with any dress.
Some brides enjoy coloured jewellery, which they can match to the colour of their eyes or bouquet. There are so many coloured gemstones on the market so every bride can find the perfect colour. Many of those gemstones have a traditional meaning, which can also help you choose the right one. As always, make sure to choose gems that are the same colour.
Your earring should ideally be the same style as your necklace. Those two pieces of jewellery have to be just like twins. Try to find those that speak to you and feel right.
If you bought a big and shining necklace, combine it with more subtle earrings. Those can be tiny diamond beads or anything you like.

But, a delicate and elegant necklace is ideal for extravagant earrings. 

There are some other recommendations when it comes to earrings. If you would love to wear, for example, dangle or chandelier earrings, make sure to wear them for a few hours. You have to know if they're not too heavy for your ears. It can be pretty annoying if you would be in pain all day because of your jewellery. 
If you feel confused and don't know which earring will suit you the most, your face shape can help you a lot. Every single one of them is more suitable for specific earrings. 
If you want to make your face wider, try on dangle or chandelier earrings. 

Square shaped earrings can make a round face look more slim and structured.
Either way, it's up to you which style you'll choose. These tips can only help you find what suits you the most. If you love one particular type of earrings, wear them and be yourself.
How to choose your wedding bracelet?
Besides necklaces and earrings, bracelets also belong to wedding jewellery. The essential step you have to make is choosing the correct size. Your bracelet can't be loose on your hand, and it definitely can't strangle your hand. Try to measure your wrist with a string first so that you know your size. Also, make sure every piece of jewellery is the same style. 
The easiest solution is buying the wedding jewellery set. Jewellery in this set is designed to match each other, so you'll have no trouble combining everything. Before purchasing these sets, always try the pieces on so you'll know if everything feels comfortable.
We can't forget about rings. If you own some, don't wear them on your wedding day. Your wedding ring should be the only ring on your finger. Wearing another ring doesn't look and feel right. There are various materials used in wedding rings, but white gold is the most popular one. 
Taking care of your jewellery
Buying new jewellery for your wedding day isn't necessary. You can always wear jewellery that you already own if you love it. Some brides even wear their family heritage. Our tip is to have your jewellery cleaned by a professional so that it's nice and clean for your special day.
Choosing the right wedding jewellery is challenging. There are so many things to consider, which can be overwhelming. Make sure you combine everything properly and choose the same materials. If anything speaks to you, wear it – this day is about you and your partner, so make sure you feel amazing.